Clearance
Proprietary Liposomal Colostrum Powder - 16 oz Plain
Limit 3 per customer
Hurry only 1 left!
0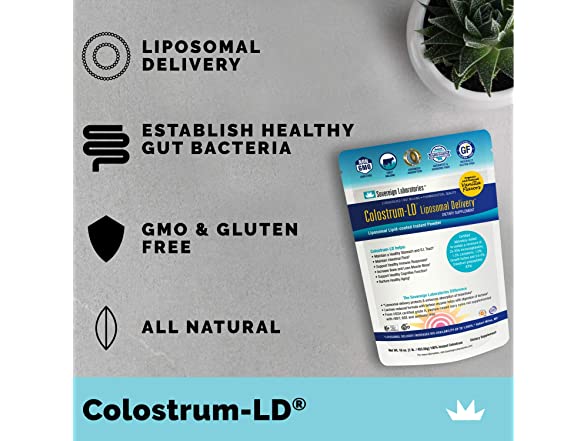 Features
𝗣𝗛𝗔𝗥𝗠𝗔𝗖𝗘𝗨𝗧𝗜𝗖𝗔𝗟 𝗤𝗨𝗔𝗟𝗜𝗧𝗬 𝗖𝗢𝗟𝗢𝗦𝗧𝗥𝗨𝗠 - Made from grass-fed, Grade A dairy cows; BST, BSE, and antibiotic-free; Certified cGMP, Kosher, and Halal; First-milking is flash-pasteurized, low heat-dried, and instantized for maximum safety and efficacy
𝟭𝟱𝟬𝟬% 𝗠𝗢𝗥𝗘 𝗘𝗙𝗙𝗘𝗖𝗧𝗜𝗩𝗘 𝗧𝗛𝗔𝗡 𝗢𝗧𝗛𝗘𝗥 𝗕𝗥𝗔𝗡𝗗𝗦 - Provides key bioactive components that assist the immune system; Helps maintain a healthy stomach, G.I. tract, and intestinal flora; Helps increase bone and muscle mass; supports healthy cognitive function
𝗔𝗟𝗟𝗘𝗩𝗜𝗔𝗧𝗘𝗦 𝗟𝗘𝗔𝗞𝗬 𝗚𝗨𝗧 𝗜𝗦𝗦𝗨𝗘𝗦 - Alleviates and prevents gut permeability (Leaky Gut) caused by environmental factors such as toxins, pathogens (bacteria), acidic drinks, and pharmaceuticals (both prescribed and OTC)
𝗣𝗥𝗢𝗣𝗥𝗜𝗘𝗧𝗔𝗥𝗬 𝗟𝗜𝗣𝗢𝗦𝗢𝗠𝗔𝗟 𝗗𝗘𝗟𝗜𝗩𝗘𝗥𝗬, 𝟭𝟱𝟬𝟬% 𝗕𝗜𝗢𝗔𝗩𝗔𝗜𝗟𝗔𝗕𝗜𝗟𝗜𝗧𝗬 - Liposomal Delivery shields Colostrum from stomach acid, allowing a safe path to the small intestine for maximized absorption into bloodstream; Safe for Lactose and dairy intolerant individuals
Statements regarding dietary supplements have not been evaluated by the FDA and are not intended to diagnose, treat, cure, or prevent any disease or health condition.
Shipping Note: Shipping to Alaska, Hawaii, P.O. Boxes, and APO addresses is not available for this item
Warranty: 90 Day Woot Limited Warranty
Specs
In the Box:
(1)

Proprietary Liposomal Colostrum Powder - Immune & Digestive Support I Eases Leaky Gut I Gluten-Free, Lactose-Reduced I 1500% More Bioavailability I 90 Servings - Sovereign Laboratories - 16 oz Plain
Specs
In the Box:
(1)

Proprietary Liposomal Colostrum Powder - Immune & Digestive Support I Eases Leaky Gut I Gluten-Free, Lactose-Reduced I 1500% More Bioavailability I 90 Servings - Sovereign Laboratories - 16 oz Plain