Clearance
Optoma W416 Bright Multimedia WXGA Projector
Limit 10 per customer
Hurry only 1 left!
June is busting out all over! (How's THAT for an old reference?!) Celebrate the start of summer and kiddies going crazy with this month's Woot-Off!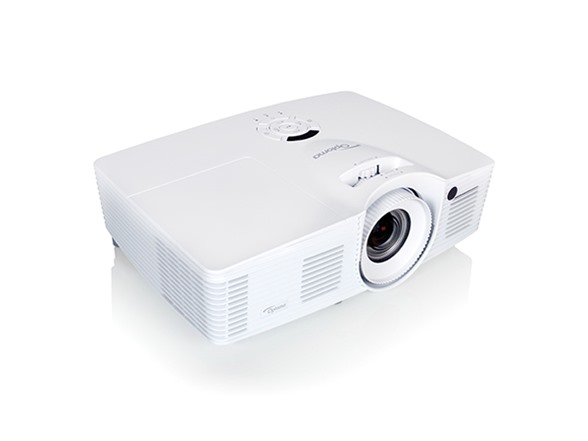 Features
1-year protection plan: $75.99
Buy Now
The Optoma W416 is the ideal WXGA projector for corporate, house of worship, and higher education usage. The W416 is loaded with a host of advanced features, including 4,500 lumens, an advanced optical lens, 1280×800 resolution, a massive 1.6x Zoom, sRGB support, and a 20,000:1 contrast ratio. Whether you are delivering quarterly earnings, a sales presentation or a daily science lesson, the W416 will wow audiences with an incredibly bright image, deep blacks, and vivid, brilliant colors.
Its sRGB color profile enables rich, accurate color based on the primaries of REC.709b HDTV specification when used with a PC, Mac, or any sRGB-compatible source. Wall Color Adjustment is designed to compensate for the loss of brightness when projecting on non-white projection surfaces in various environments. This feature is extremely useful in classrooms, conference rooms, training rooms or anywhere where the presenter is using a colored wall, blackboard, chalkboard, or whiteboard for the projection surface.
The W416 features a new cutting-edge optical lens, 1.6x Zoom, and Vertical Lens Shift for easy installations. Edge Mask eliminates soft and jagged edges on the border of projected images to produce smooth, consistent images. The carrying bag included with purchase makes the W416 perfect for meetings in the field, presentations in the conference room or trainings in the classroom.
Amazing Color
Our projectors are capable of reproducing the Rec.709 color gamut, the international HDTV standard to guarantee accurate reproduction of cinematic color exactly as the director intended. Our projectors can also create saturated colors, great for gaming and animated movies.
Full 3D
Display true 3D content from almost any 3D source, including 3D Blu-ray Disc™ players, 3D broadcasting, and the latest-generation game consoles. Support for 144Hz rapid-refresh rate provides ultra-smooth flicker-free images. Optoma 3D glasses required.
High Contrast
Add more depth to your image with a high-contrast projector. With brighter whites and ultra-rich blacks, images come alive and text is crisp and clear.
Eco+
Specially designed lamp modes reduce power consumption by up to 70%. Each mode also improves lamp life, which lowers the total cost of ownership and reduces maintenance.
Quick Resume
This feature allows the projector to be instantly powered on again within 100 seconds of turning it off.
AV Mute
When enabled via remote control or network management, the projector suspends (dims) video output to conserve energy.
Auto Power Off
To help save energy, this feature automatically turns off the projector after a set period of time, if it is not being used.
Vertical Lens Shift
Vertical lens shift simplifies installations by shifting the image up and down without image distortion to provide a wider range of projector placement possibilities, making it easier to position the projector in a room.
Shipping Note: Shipping to Alaska, Hawaii, and PO Boxes is not available for this item
Warranty: 90 Day Optoma Warranty
Specs
| | |
| --- | --- |
| TECHNICAL SPECIFICATIONS | |
| Aspect Ratio | 16:10 |
| Audio | 10W speaker |
| Brightness | 4,500 lumens |
| Compatible Aspect Ratio | 16:9 Native, 4:3 Compatible |
| Connections | 2 x HDMI (1.4a 3D support) + MHL v2.2, VGA (YPbPr/RGB), Composite, 2 x Audio in 3.5mm, VGA out, Audio out 3.5mm, RS232, RJ45, USB-A Power, USB mouse/service |
| Contrast Ratio | 20,000:1 |
| Display Technology | Single 0.65″ DC3 DMD DLP™ Technology by Texas Instruments |
| Displayable Colors | 1.07 billion |
| Inputs | 2 x HDMI (1.4a 3D support) MHL v2.2, VGA (YPbPr/RGB), Composite, 2 x Audio in 3.5mm, RS232, RJ45, USB-A Power, USB mouse/service |
| Keystone Correction | ± 40° Vertical |
| Light Source Type | 260W |
| Light Source Life | 6500/5000/5000/3000 – ECO+/Dynamic/ECO/Bright |
| Lens Shift | Vertical: +17% |
| Maximum Resolution | WUXGA (1920 x 1200) |
| Native Resolution | WXGA (1280 x 800) |
| Noise Level | 29dB |
| Offset | 115% (+/- 5% variance) |
| On-Screen Display | Complete on-screen menu adjustments in 26 languages |
| Operating Temperature | Sea Level to 10,000 feet (@73°F); must manually switch to high-altitude mode at 5,000 feet & above |
| Outputs | VGA out, audio out, (3.5mm) |
| Power Consumption | 353W Bright (Max), 283W ECO (Max) |
| Power Supply | AC input 100-240V, 50-60Hz, auto-switching |
| Projection Distance | 4.26' – 30.8' |
| Projection Lens | F=2.5 – 3.26, F=20.91 – 32.62 mm manual focus |
| Projection Screen Size | 4.26' – 30.8' |
| Remote Control | IR remote control |
| Throw Ratio | 1.4 – 2.24:1 (distance/width), ±5% Variance |
| Uniformity | >75% |
| Zoom Type | 1.6x optical (manual) |
| | |
| COMPATIBILITY SPECIFICATIONS | |
| 3D Compatibility | Side-by-Side: 1080i50 / 60, 720p50 / 60, Frame-pack: 1080p24, 720p50 / 60, Over-Under: 1080p24, 720p50 / 60 |
| Computer Compatibility | UXGA, SXGA, WXGA, HD, XGA, SVGA, VGA, Mac |
| Horizontal Scan Rate | 15.3 – 91.1kHz |
| Optional Wireless | Yes |
| RoHS | Compliant |
| Vertical Scan Rate | 24-85Hz (120Hz for 3D) |
| Video Compatiblity | NTSC, PAL, SECAM, SDTV (480i), EDTV (480p), HDTV (720p, 1080i/p) |
| | |
| PHYSICAL SPECIFICATIONS | |
| Dimensions (W x H x D) | 12.36″ x 4.48″ x 8.81″ |
| Security | Security bar, Kensington lock, password protection, keypad lock |
| Weight | 6.75 lbs |
In the Box:
Optoma W416 Bright Multimedia WXGA Projector
Power Cord
Remote Control
Specs
| | |
| --- | --- |
| TECHNICAL SPECIFICATIONS | |
| Aspect Ratio | 16:10 |
| Audio | 10W speaker |
| Brightness | 4,500 lumens |
| Compatible Aspect Ratio | 16:9 Native, 4:3 Compatible |
| Connections | 2 x HDMI (1.4a 3D support) + MHL v2.2, VGA (YPbPr/RGB), Composite, 2 x Audio in 3.5mm, VGA out, Audio out 3.5mm, RS232, RJ45, USB-A Power, USB mouse/service |
| Contrast Ratio | 20,000:1 |
| Display Technology | Single 0.65″ DC3 DMD DLP™ Technology by Texas Instruments |
| Displayable Colors | 1.07 billion |
| Inputs | 2 x HDMI (1.4a 3D support) MHL v2.2, VGA (YPbPr/RGB), Composite, 2 x Audio in 3.5mm, RS232, RJ45, USB-A Power, USB mouse/service |
| Keystone Correction | ± 40° Vertical |
| Light Source Type | 260W |
| Light Source Life | 6500/5000/5000/3000 – ECO+/Dynamic/ECO/Bright |
| Lens Shift | Vertical: +17% |
| Maximum Resolution | WUXGA (1920 x 1200) |
| Native Resolution | WXGA (1280 x 800) |
| Noise Level | 29dB |
| Offset | 115% (+/- 5% variance) |
| On-Screen Display | Complete on-screen menu adjustments in 26 languages |
| Operating Temperature | Sea Level to 10,000 feet (@73°F); must manually switch to high-altitude mode at 5,000 feet & above |
| Outputs | VGA out, audio out, (3.5mm) |
| Power Consumption | 353W Bright (Max), 283W ECO (Max) |
| Power Supply | AC input 100-240V, 50-60Hz, auto-switching |
| Projection Distance | 4.26' – 30.8' |
| Projection Lens | F=2.5 – 3.26, F=20.91 – 32.62 mm manual focus |
| Projection Screen Size | 4.26' – 30.8' |
| Remote Control | IR remote control |
| Throw Ratio | 1.4 – 2.24:1 (distance/width), ±5% Variance |
| Uniformity | >75% |
| Zoom Type | 1.6x optical (manual) |
| | |
| COMPATIBILITY SPECIFICATIONS | |
| 3D Compatibility | Side-by-Side: 1080i50 / 60, 720p50 / 60, Frame-pack: 1080p24, 720p50 / 60, Over-Under: 1080p24, 720p50 / 60 |
| Computer Compatibility | UXGA, SXGA, WXGA, HD, XGA, SVGA, VGA, Mac |
| Horizontal Scan Rate | 15.3 – 91.1kHz |
| Optional Wireless | Yes |
| RoHS | Compliant |
| Vertical Scan Rate | 24-85Hz (120Hz for 3D) |
| Video Compatiblity | NTSC, PAL, SECAM, SDTV (480i), EDTV (480p), HDTV (720p, 1080i/p) |
| | |
| PHYSICAL SPECIFICATIONS | |
| Dimensions (W x H x D) | 12.36″ x 4.48″ x 8.81″ |
| Security | Security bar, Kensington lock, password protection, keypad lock |
| Weight | 6.75 lbs |
In the Box:
Optoma W416 Bright Multimedia WXGA Projector
Power Cord
Remote Control