Clearance
DJI Phantom 3 SE Quadcopter 4K
Limit 10 per customer
Hurry only 1 left!
'Cause yer friends don't drone and if they don't drone then they're no friends of mine...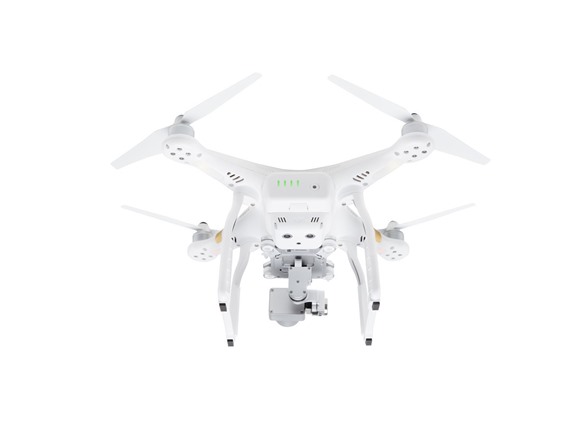 Features
1-year protection plan: $68.99
Buy Now
Perfect for beginners or experienced drone operators, the Phantom 3 SE features the reliability, intuitive controls, excellent image quality, and powerful flight performance that make DJI's Phantom series so iconic. With its 4K camera, 4 km control range, vision positioning system, and 25-minute flight time, users can experience the thrill of flying with incredible ease.
4K Camera
The Phantom 3 SE's camera shoots 4K 30 fps video and 12 MP photos, delivering impressively clear and detailed images. Its custom-engineered lens features a 94-degree field of view, which is well-suited for aerial imaging and ensures your work always comes to life.
Upgraded Control Range
This Phantom's newly enhanced Wi-Fi video transmission system allows you to fly farther while maintaining a crystal-clear live camera view. The Phantom 3 SE offers reliable control and image transmission from up to 4 km away, so all you have to focus on is getting the best shots possible.
Easy to Use
Expertly-designed hardware combined with the DJI GO app makes aerial photography just as easy as shooting with a smartphone. Intelligent Flight Modes like Course Lock and Point of Interest help you fly and shoot like a pro, and industry-leading flight control technologies mean you can always fly with your mind at ease.
Vision Positioning
Equipped with a vision positioning system, the Phantom 3 SE hovers precisely and flies steadily, even without GPS signal. Ultrasonic and vision sensors measure the altitude and speed of the aircraft, providing users the information they need to fly safely.
25-Minute Flight Time
The Phantom 3 SE offers up to 25 minutes of flight with an advanced battery management system that offers intelligent charging and discharging protection to ensure longevity.
Powerful Propulsion
The Phantom 3 SE flies at up to 35 mph, delivering the excitement of fast flight even in strong winds.
Return to Home
When taking off with sufficient GPS signal, the Phantom 3 SE automatically records a home point and returns to that point when it loses connection.
Stable Hovering
With or without GPS signal, the Phantom 3 SE hovers precisely in place and waits for your next command. This gives you ample time to plan, adjust your camera, and capture shots that match your creative vision.
Professional Stabilization
The camera's 3-axis gimbal effectively reduces shake and rolling shutter effect, making its footage smooth and stable. The gimbal's motors counteract unwanted camera movement in real time, keeping the camera level and steady to shoot cinematic footage.
Capture the World
The Phantom 3 SE's custom-engineered 94-degree FOV fixed-focus lens dramatically lowers distortion. Shoot amazing wide-angle photos with vivid colors and capture the world in all its beauty.
HD Video Transmission
With a mobile device mounted to the remote controller, users can monitor their real-time HD live feed while adjusting camera and aircraft settings. An advanced Wi-Fi range extender is built into the controller, so video transmission and connection remain reliable within a 4 km range.
Responsive Control
Ergonomic control sticks let you fly with extraordinary accuracy. You can also use the gimbal dial to adjust the tilt of the camera.
DJI GO
Record footage, adjust settings, and check critical data midflight with the DJI GO app. The app's built-in editor helps you to manage and process footage with multiple filters and automatic editing features. Just tap your screen to create amazing videos!
Shipping Note: Shipping to Alaska, Hawaii, and PO Boxes is not available for this item
Warranty: 90 Day Woot Limited Warranty
Specs
| | |
| --- | --- |
| AIRCRAFT | |
| Takeoff Weight | 1236 g |
| Diagonal Distance (propellers excluded) | 350 mm |
| Max Ascent Speed | 5 m/s |
| Max Descent Speed | 3 m/s |
| Hover Accuracy Range | Vertical: |
| | ±0.1 m (with Vision Positioning) |
| | ±0.5 m (with GPS Positioning) |
| | Horizontal: |
| | ±0.3 m (with Vision Positioning) |
| | ±1.5 m (with GPS Positioning) |
| Max Speed | 16 m/s |
| Max Service Ceiling Above Sea Level | 6000 m |
| Max Hovering Time | Approx.25 minutes |
| Operating Temperature Range | 32° to 104°F (0° to 40°C) |
| Satellite Positioning Systems | GPS/GLONASS |
| Controllable Range | Pitch: -90° to +30° |
| Stabilization | 3-axis (pitch, roll, yaw) |
| | |
| INTELLIGENT FLIGHT BATTERY | |
| Capacity | 4480 mAh |
| Voltage | 15.2 V |
| Battery Type | LiPo 4S |
| Energy | 68 Wh |
| Net Weight | 365 g |
| Charging Temperature Range | 41° to 104°F (5° to 40°C) |
| Max Charging Power | 100 W |
| | |
| VISION SYSTEM | |
| Vision System | Downward Vision System |
| Velocity Range | ≤8 m/s (2 m above ground) |
| Altitude Range | 30 - 300 cm |
| Operating Range | 50 - 300 cm |
| Operating Environment | Surface with clear pattern and adequate lighting (lux>15) |
| | |
| APP / LIVE VIEW | |
| Mobile App | DJI GO |
| Live View Quality | 720P @ 30fps |
| Required Operating Systems | iOS 9.0 or later |
| | Android 4.4.0 or later |
| Recommended Devices | iOS: iPhone 5s、iPhone SE、iPhone 6、iPhone 6 Plus、iPhone 6s、iPhone 6s Plus、 iPhone 7、 iPhone 7 Plus、iPad Air、iPad Air Wi-Fi + Cellular、iPad mini 2、iPad mini 2 Wi-Fi + Cellular、iPad Air 2、iPad Air 2 Wi-Fi + Cellular、iPad mini 3、iPad mini 3 Wi-Fi + Cellular、iPad mini 4 and iPad mini 4 Wi-Fi + Cellular |
| | Android: Samsung tabs 705c、Samsung S6、Samsung S5、Samsung NOTE4、Samsung NOTE3、Google Nexus 9、Google Nexus 7 II、Ascend Mate7、Huawei P8 Max、Huawei Mate 8、Nubia Z7 mini、Sony Xperia Z3、MI 3、MI PAD、Smartisan T1 |
| | *Support for additional Android devices available as testing and development continues. |
| | |
| REMOTE CONTROLLER | |
| Operating Frequency | 2.400 - 2.483 GHz;5.725 - 5.825 GHz |
| Max Transmission Distance | FCC Compliant: 2.5 mi (4 km) |
| | CE Compliant: 0.3 mi (500m) |
| | (Unobstructed, free of interference) |
| Operating Temperature Range | 32° to 104°F (0° to 40°C) |
| Battery | 2600 mAh LiPo 2S |
| Mobile Device Holder | Tablets and smart phones |
| | |
| CAMERA | |
| Sensor | 1/2.3" CMOS |
| | Effective pixels: 12M |
| Lens | FOV 94° 20 mm (35 mm format equivalent) f/2.8 focus at ∞ |
| ISO Range | 100-3200 (video) |
| | 100-1600 (photo) |
| Electronic Shutter Speed | 8 - 1/8000 s |
| Image Size | 4000 x 3000 |
| Still Photography Modes | Single Shot |
| | Burst Shooting: 3/5/7 frames |
| | Auto Exposure Bracketing (AEB): 3/5 bracketed frames at 0.7 EV Bias |
| | Timelapse |
| Video Recording Modes | C4K:4096 x 2160 24/25p |
| | 4K:3840 x 2160 24/25/30p |
| | 2.7K:2704 x 1520 24/25/30p |
| | FHD:1920 x 1080 24/25/30/48/50/60p |
| | HD: 1280 x 720 24/25/30/48/50/60p |
| Supported SD Cards | Micro SD |
| | Max capacity: 64 GB |
| | Class 10 or UHS-1 rating required |
| Max Video Bitrate | 60 Mbps |
| Supported File Systems | FAT32 (≤32 GB); exFAT (>32 GB) |
| Photo | JPEG, DNG (RAW) |
| Video | MP4, MOV (MPEG-4 AVC/H.264) |
| Operating Temperature Range | 32° to 104°F (0° to 40°C) |
| | |
| CHARGER | |
| Voltage | 17.4 V |
| Rated Power | 100 W |
In the Box (Ships in Retail Box):
Aircraft Body ×1
Remote Controller ×1
Propeller Pair ×4
Intelligent Flight Battery ×1
Battery Charger ×1
Power Cable ×1
Gimbal Clamp* ×1
Vibration Absorber* ×4
Micro USB Cable* ×1
Anti-drop Kit* ×2
Landing Pad* ×4
Propeller Removal Clamp* ×1
Sticker* ×5
Specs
| | |
| --- | --- |
| AIRCRAFT | |
| Takeoff Weight | 1236 g |
| Diagonal Distance (propellers excluded) | 350 mm |
| Max Ascent Speed | 5 m/s |
| Max Descent Speed | 3 m/s |
| Hover Accuracy Range | Vertical: |
| | ±0.1 m (with Vision Positioning) |
| | ±0.5 m (with GPS Positioning) |
| | Horizontal: |
| | ±0.3 m (with Vision Positioning) |
| | ±1.5 m (with GPS Positioning) |
| Max Speed | 16 m/s |
| Max Service Ceiling Above Sea Level | 6000 m |
| Max Hovering Time | Approx.25 minutes |
| Operating Temperature Range | 32° to 104°F (0° to 40°C) |
| Satellite Positioning Systems | GPS/GLONASS |
| Controllable Range | Pitch: -90° to +30° |
| Stabilization | 3-axis (pitch, roll, yaw) |
| | |
| INTELLIGENT FLIGHT BATTERY | |
| Capacity | 4480 mAh |
| Voltage | 15.2 V |
| Battery Type | LiPo 4S |
| Energy | 68 Wh |
| Net Weight | 365 g |
| Charging Temperature Range | 41° to 104°F (5° to 40°C) |
| Max Charging Power | 100 W |
| | |
| VISION SYSTEM | |
| Vision System | Downward Vision System |
| Velocity Range | ≤8 m/s (2 m above ground) |
| Altitude Range | 30 - 300 cm |
| Operating Range | 50 - 300 cm |
| Operating Environment | Surface with clear pattern and adequate lighting (lux>15) |
| | |
| APP / LIVE VIEW | |
| Mobile App | DJI GO |
| Live View Quality | 720P @ 30fps |
| Required Operating Systems | iOS 9.0 or later |
| | Android 4.4.0 or later |
| Recommended Devices | iOS: iPhone 5s、iPhone SE、iPhone 6、iPhone 6 Plus、iPhone 6s、iPhone 6s Plus、 iPhone 7、 iPhone 7 Plus、iPad Air、iPad Air Wi-Fi + Cellular、iPad mini 2、iPad mini 2 Wi-Fi + Cellular、iPad Air 2、iPad Air 2 Wi-Fi + Cellular、iPad mini 3、iPad mini 3 Wi-Fi + Cellular、iPad mini 4 and iPad mini 4 Wi-Fi + Cellular |
| | Android: Samsung tabs 705c、Samsung S6、Samsung S5、Samsung NOTE4、Samsung NOTE3、Google Nexus 9、Google Nexus 7 II、Ascend Mate7、Huawei P8 Max、Huawei Mate 8、Nubia Z7 mini、Sony Xperia Z3、MI 3、MI PAD、Smartisan T1 |
| | *Support for additional Android devices available as testing and development continues. |
| | |
| REMOTE CONTROLLER | |
| Operating Frequency | 2.400 - 2.483 GHz;5.725 - 5.825 GHz |
| Max Transmission Distance | FCC Compliant: 2.5 mi (4 km) |
| | CE Compliant: 0.3 mi (500m) |
| | (Unobstructed, free of interference) |
| Operating Temperature Range | 32° to 104°F (0° to 40°C) |
| Battery | 2600 mAh LiPo 2S |
| Mobile Device Holder | Tablets and smart phones |
| | |
| CAMERA | |
| Sensor | 1/2.3" CMOS |
| | Effective pixels: 12M |
| Lens | FOV 94° 20 mm (35 mm format equivalent) f/2.8 focus at ∞ |
| ISO Range | 100-3200 (video) |
| | 100-1600 (photo) |
| Electronic Shutter Speed | 8 - 1/8000 s |
| Image Size | 4000 x 3000 |
| Still Photography Modes | Single Shot |
| | Burst Shooting: 3/5/7 frames |
| | Auto Exposure Bracketing (AEB): 3/5 bracketed frames at 0.7 EV Bias |
| | Timelapse |
| Video Recording Modes | C4K:4096 x 2160 24/25p |
| | 4K:3840 x 2160 24/25/30p |
| | 2.7K:2704 x 1520 24/25/30p |
| | FHD:1920 x 1080 24/25/30/48/50/60p |
| | HD: 1280 x 720 24/25/30/48/50/60p |
| Supported SD Cards | Micro SD |
| | Max capacity: 64 GB |
| | Class 10 or UHS-1 rating required |
| Max Video Bitrate | 60 Mbps |
| Supported File Systems | FAT32 (≤32 GB); exFAT (>32 GB) |
| Photo | JPEG, DNG (RAW) |
| Video | MP4, MOV (MPEG-4 AVC/H.264) |
| Operating Temperature Range | 32° to 104°F (0° to 40°C) |
| | |
| CHARGER | |
| Voltage | 17.4 V |
| Rated Power | 100 W |
In the Box (Ships in Retail Box):
Aircraft Body ×1
Remote Controller ×1
Propeller Pair ×4
Intelligent Flight Battery ×1
Battery Charger ×1
Power Cable ×1
Gimbal Clamp* ×1
Vibration Absorber* ×4
Micro USB Cable* ×1
Anti-drop Kit* ×2
Landing Pad* ×4
Propeller Removal Clamp* ×1
Sticker* ×5
Sales Stats
Speed to First Woot:

2h 10m 3.557s
Last Wooter to Woot:

rcsh
Purchaser Experience
5%

first woot

0%

second woot

14%

< 10 woots

32%

< 25 woots

50%

≥ 25 woots
Purchaser Seniority
5%

joined today

0%

one week old

0%

one month old

0%

one year old

95%

> one year old
Quantity Breakdown
100%

bought 1

0%

bought 2

0%

bought 3 or more
Percentage of Sales Per Hour
| | | | | | | | | | | | | | | | | | | | | | | | |
| --- | --- | --- | --- | --- | --- | --- | --- | --- | --- | --- | --- | --- | --- | --- | --- | --- | --- | --- | --- | --- | --- | --- | --- |
| | | | | | | | | | | | | | | | | | | | | | | | |
| 12 | 1 | 2 | 3 | 4 | 5 | 6 | 7 | 8 | 9 | 10 | 11 | 12 | 1 | 2 | 3 | 4 | 5 | 6 | 7 | 8 | 9 | 10 | 11 |
Woots by State
zero wooters wooting
lots of wooters wooting